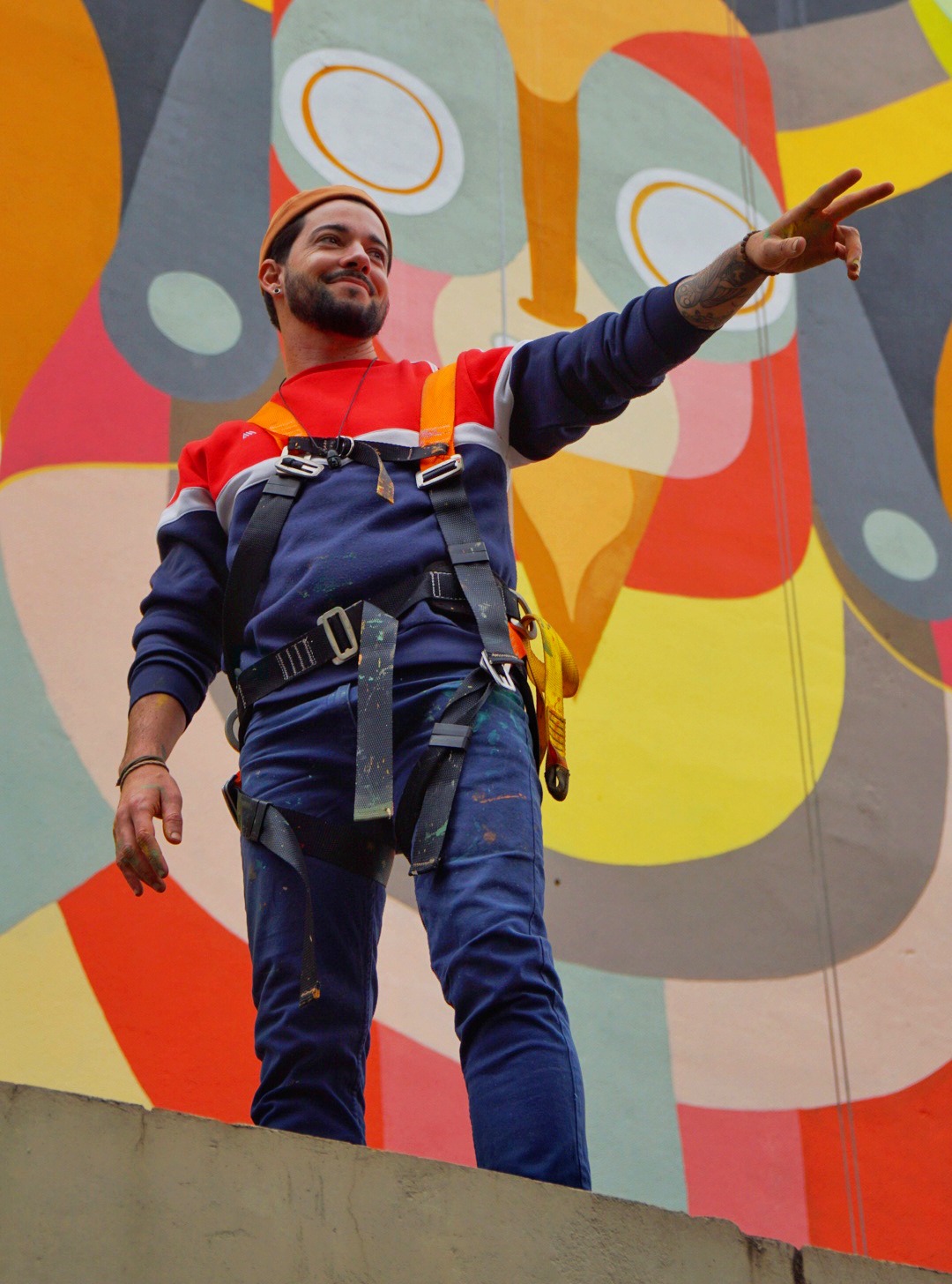 Fernando Chamarelli is a visual artist and illustrator, with a degree in graphic design. After experimenting with several techniques, and trying different types of art, he developed his own colorful and geometric style. An original art that has been exhibited in different parts of the globe.
Chamarelli is considered a visionary artist who's central theme of work is to show that everything is connected.
Including other dimensions and universes, and because of this, the artist became very interested in the theories of quantum physics.
Nowadays, his work seeks reflections through Solarpunk concepts, presenting visions of a positive future for all living beings on this planet.
Creating futuristic characters and settings, mixed with the ancestral wisdom of people who once lived in harmony with nature. This new series of paintings and digital arts that the artist is working on comes to make us even more aware of the importance of preserving the environment.
EXHIBITIONS
Solo
2023 – MIRUS GALLERY, Interconnection – Denver, USA
2022 – MIRUS GALLERY, Interconnection – Los Angeles, USA
2022 – MIRUS GALLERY, Interconnection – San Francisco, USA
2019- THE RITZ CARLTON, The art of arts series- Miami, FL, USA
2019- PINACOTECA MUNICIPAL, Portal Dimensional- Bauru, SP, Brazil
2018- ANNO DOMINI GALLERY, Multiverses- San Jose, CA, USA
2018- KALLENBACH GALLERY, Amsterdam, Netherlands
2015- THINKSPACE GALLERY, Secret Code – Los Angeles, USA
2013- VERTICAL GALLERY, Among Photons – Chicago, USA
2011- QAZ GALLERIA, Kaapora – São Paulo, Brasil
2011- THINKSPACE GALLERY, Lost Civilization – Los Angeles, USA
2010- ANNO DOMINI GALLERY, Pangea- San Jose, CA, USA
2009- POP (ROJO ArtSpace), Viracocha- São Paulo, Brasil
2008- TEMPLO, Raízes – Bauru, Brasil
Group
2023- THE BLACKSTONE HOTEL, The Cosmos and everything between- Chicago, USA
2021 – MIRUS GALLERY, Psychonauts – San Francisco, USA
2021 – THREYDA GALLERY, Catalyst – Denver, USA
2019- HERON ARTS GALLERY, LAX/SFO – San Francisco, USA
2019- THE CAVE GALLERY, Cave 0.0- Dubai, UAE
2018- SCOPE ART FAIR – Miami, USA
2018- MUSEUM OS ART AND HISTORY, New Vanguard II – Lancaster, USA
2018- VERTICAL GALLERY, 5 year anniversary show – Chicago, USA
2018- ARCA GALERIA, Punto de fuga- Mexico City, Mexico
2017- DUBAI DESIGN DISTRICT, Urban Art Festival- Dubai,UAE
2017-Mesa Contemporary Arts Museum- Arizona, USA
2017- Urban Art Biennale- Volklingen, Germany
2017- ART3f Lausanne Art Fair- Lausanne,Switzerland
2017- FORT WAY MUSEUM OF ART, Flourish- Fort Way, IN,USA
2017- HONOLULU MUSEUM OF ART, Pow Wow- Hawai,USA
2016- Miami River Art Center- Miami,USA
2016- Luxembourg Art Fair- Luxembourg
2016- Scope Miami Beach Art Fair- Miami, USA
2016- The Brand Library and Art Center, Nexus- Glendale, USA
2016- VERTICAL GALLERY, LAX/ORD – Chicago, USA
2016- Lancaster Museum of Art and History- Lancaster, USA
2016- Affordable Art Fair- Brussels, Belgium
2016- ART3f Paris, le salon international d'art contemporain- France
2015- LUIS MALUF ART GALLERY, Des[ENCONTRO]- São Paulo, Brasil
2015-THINKSPACE GALLERY, La Familia- Los Angeles, USA
2014- SCOPE MIAMI BEACH- Miami, USA
2014- URBAN NATION GALLERY, LAX/TXL- Berlin, Germany
2014- HONOLULU MUSEUM OF ART, Pow!Wow!- Hawai, USA
2014- THINKSPACE GALLERY, LA Art Show- Los Angeles, USA
2013- VERTICAL GALLERY, Assemble- Chicago,IL, USA
2012- HELLION GALLERY, Pindorama- Portland, OR, USA
2011- RV GALERIA, Quatorze a um- Salvador, Brasil
2011- TOGETHER GALLERY, LAX/PDX- Portland, OR, USA
2010- HOLALA GALLERY, Print'em All- Barcelona, Spain
2010- THINKSPACE GALLERY, 5 years anniversary- Los Angeles, USA
2010- LONDON MILES GALLERY, Three international artist- London, UK
2010- QUINA Galeria, Contemplação- Belo Horizonte, Brasil
2009- SHOW & TELL GALLERY, From Me To You- Toronto, Canada
2009- POP (ROJO Artspace), Magioska- São Paulo, Brasil
2009- ESPAÇO GABRIEL 470, Street Art- São Paulo, Brasil
2009- ESOAÇO + SOMA, 1ª Coletiva Anual + Soma- São Paulo, Brasil
2009- Instituto Sinaloense de Cultura, Proyecto Matryoshka- Culiácan, Mexico
2009- RV GALERIA, Reprodutíveis- Salvador, Brasil
2009- INTOXICATED DEMONS GALLERY, World of Illustration- Berlin, Germany
2008- ANNO DOMINI GALLERY, Frech Produce- San Jose, CA, USA
2008- FONDATION ONE GALLERY, Groundwork II- Atlanta, USA